Sharp love, 2022
Steel, 12 x 15 cm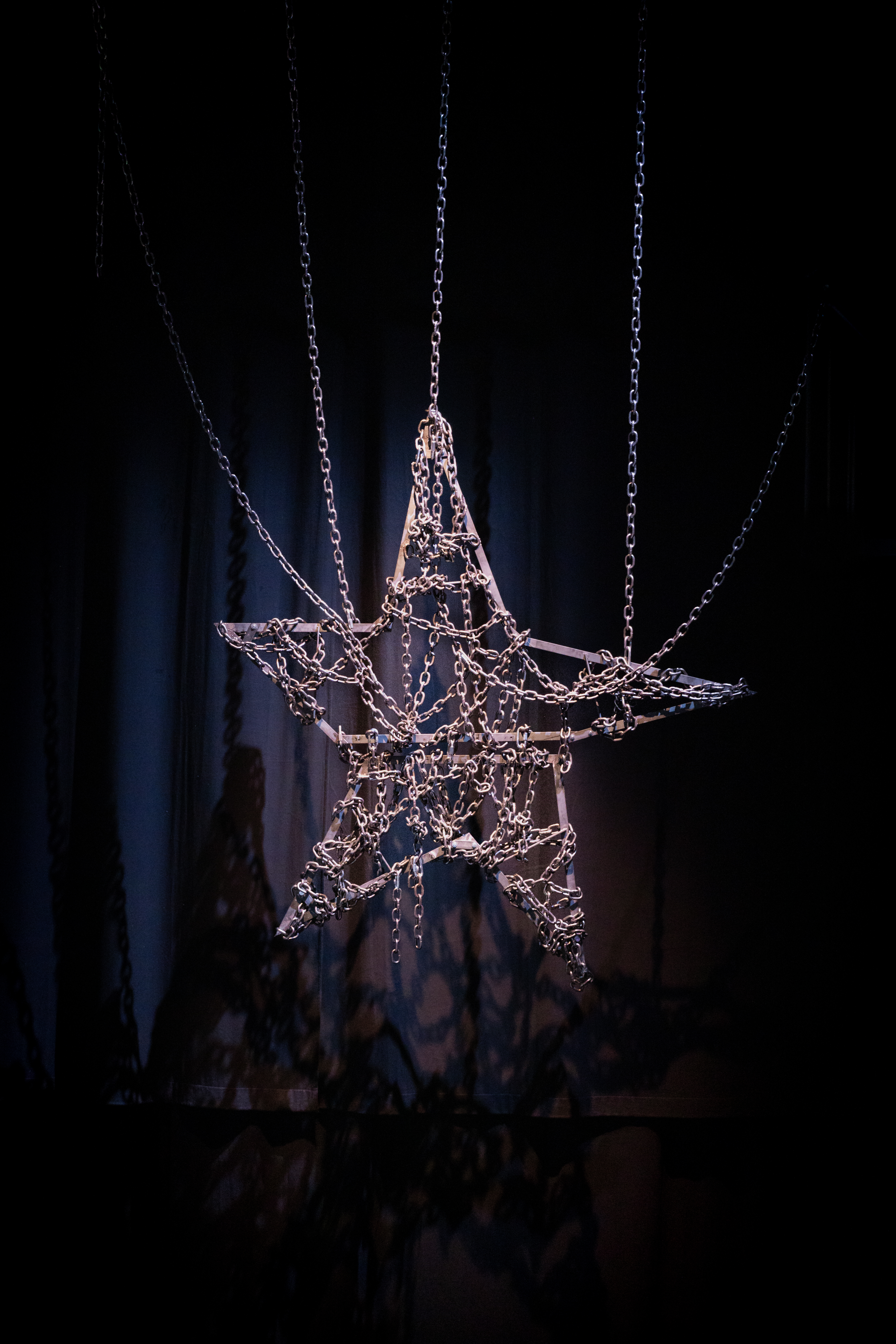 Fallen Star, 2022
Steel, 220 x 220 x 17 cm




Dip paintings 5 and 6, 2022
Silkscreen and vinyl paint on canvas, 250 x 280 cm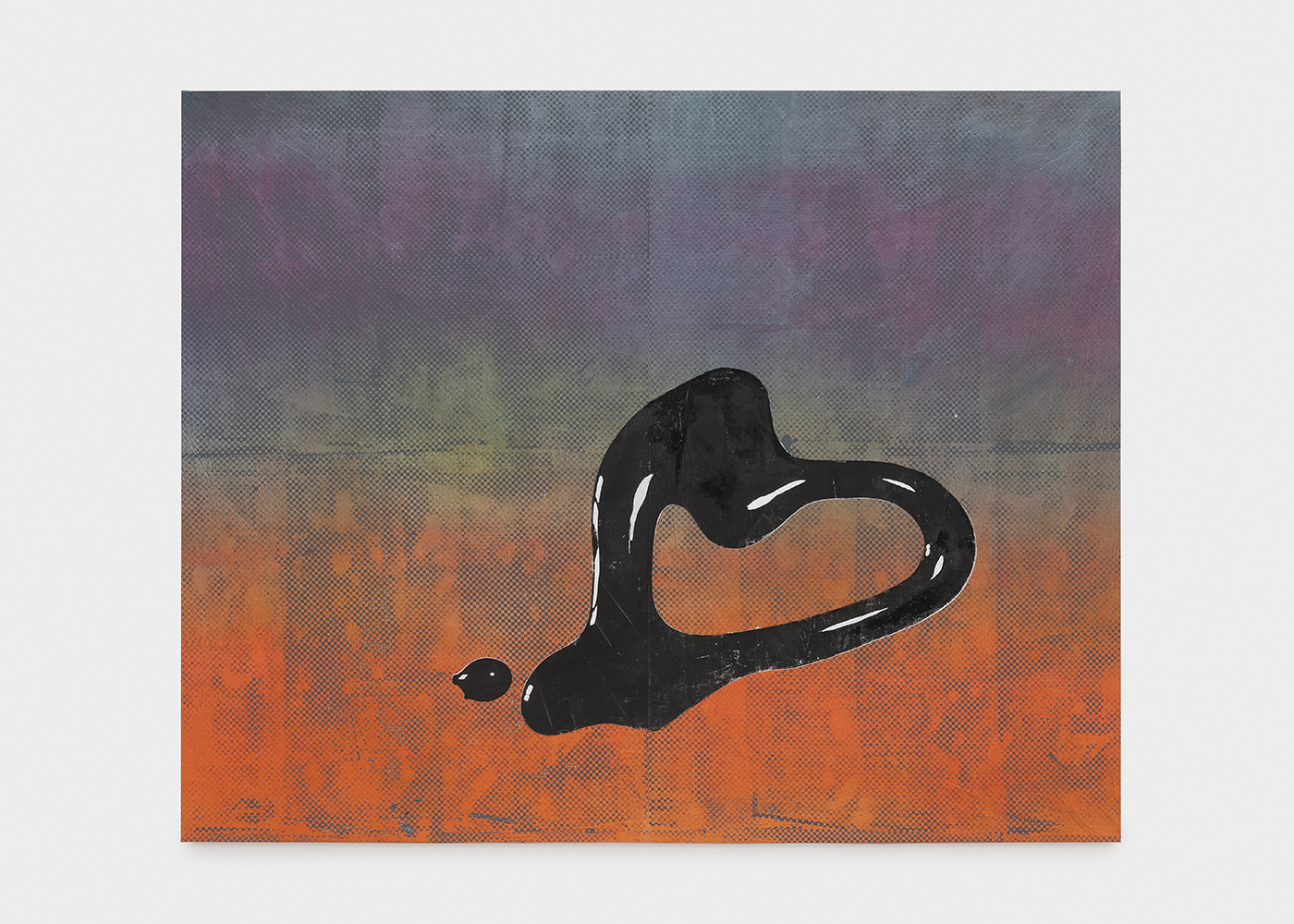 View of the exhibition Leftovers, 2021
Beaux-Arts de Paris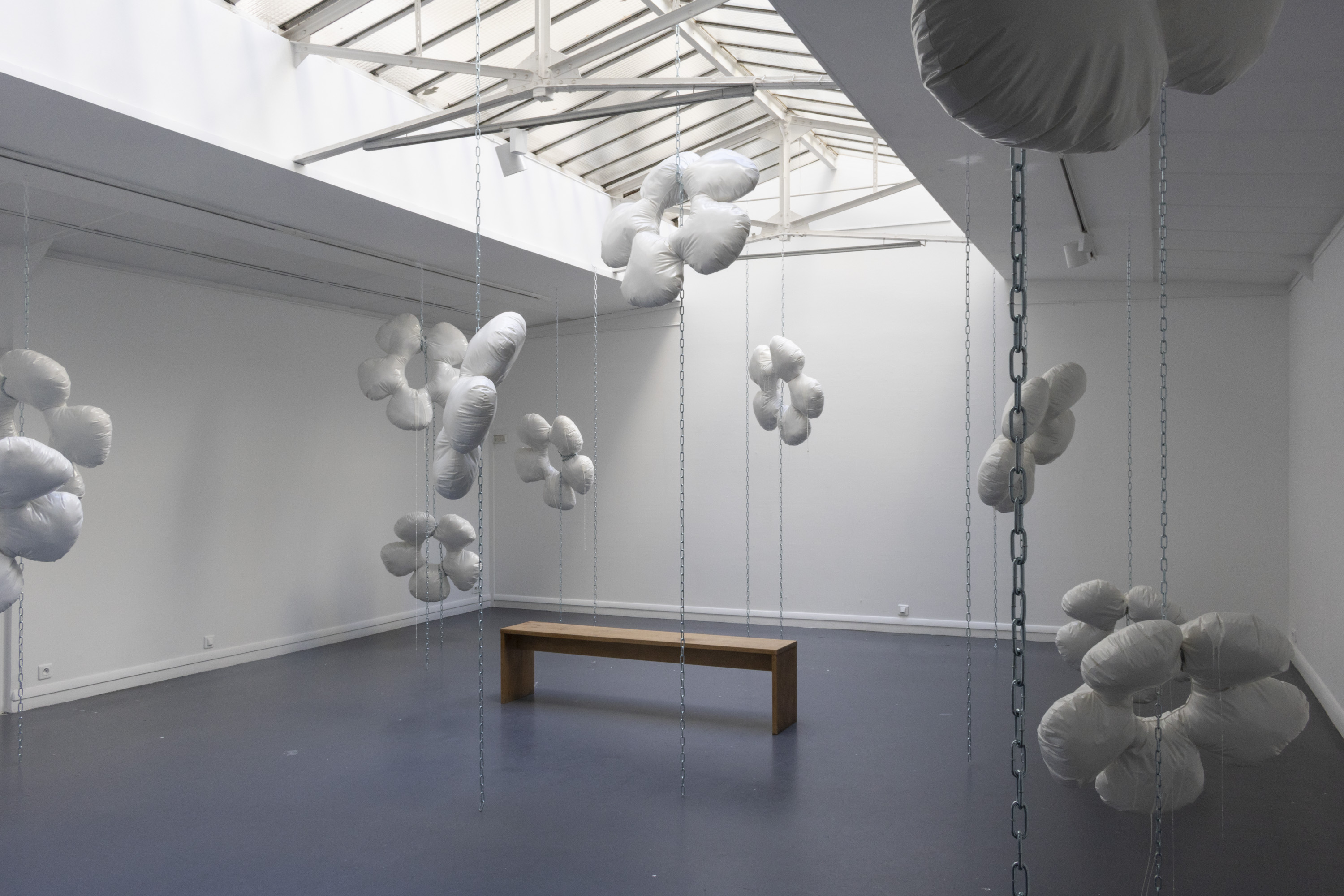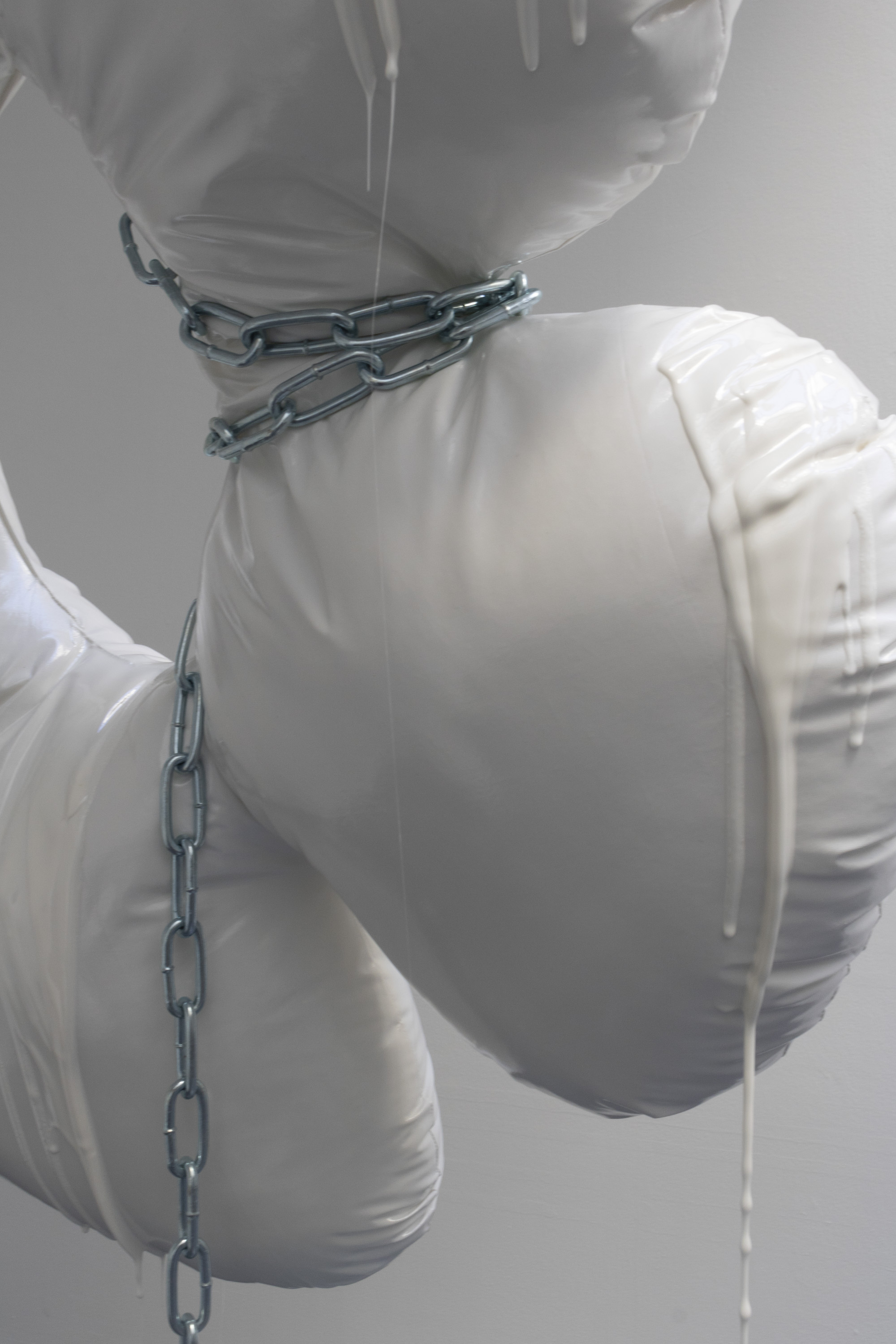 Flowers, 2020
Vinyl and resin, 70 x 70 cm
View of the exhibition You make me..., 2020

XXX, 2020
Plywood, 145 x 250 cm
View of the exhibition You make me..., 2020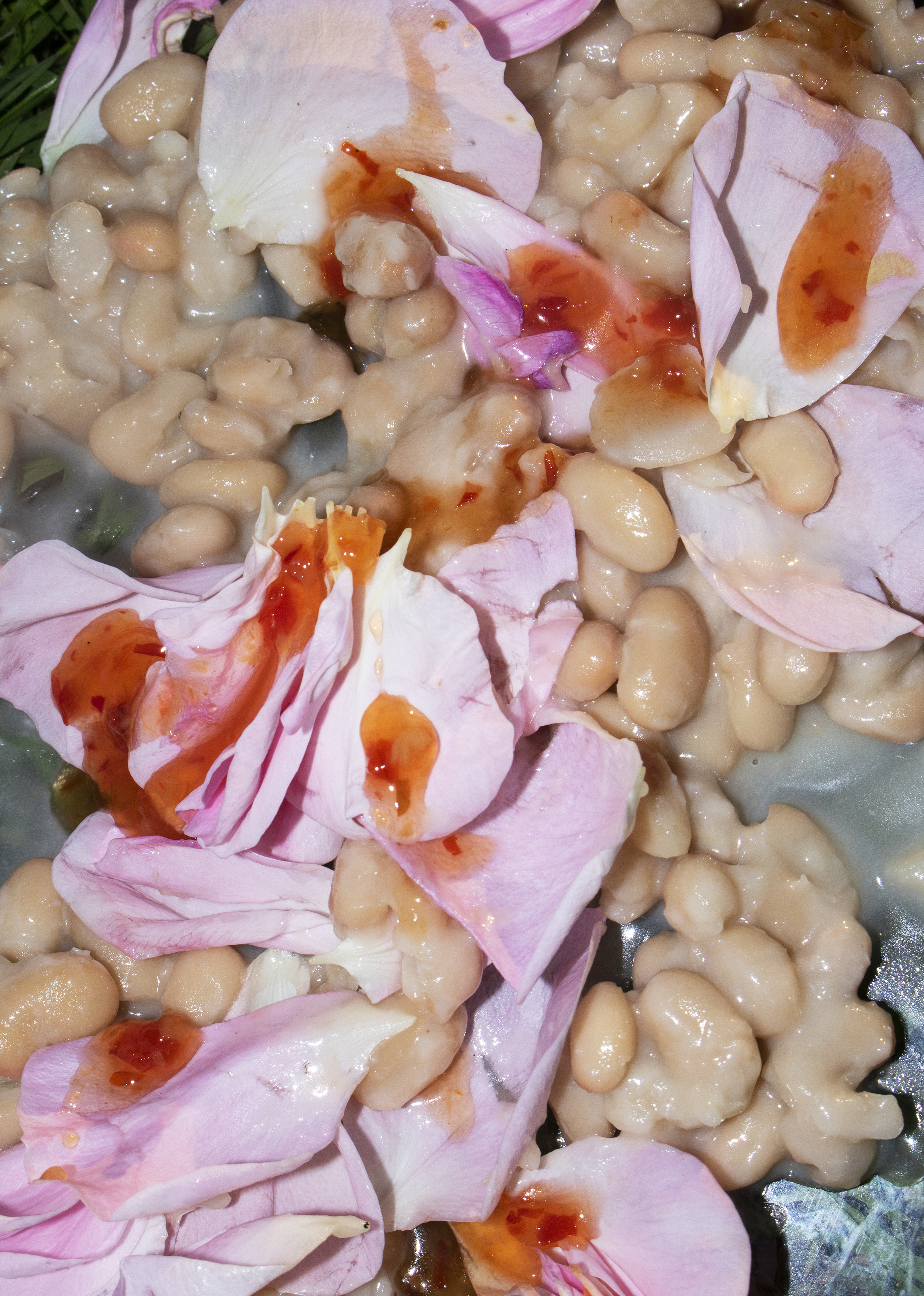 Tasty as ****
, 2020
Digital photography

Tasty as ****, 2020
Installation, Digital photography
View of the exhibition YOU MAKE ME..., 2020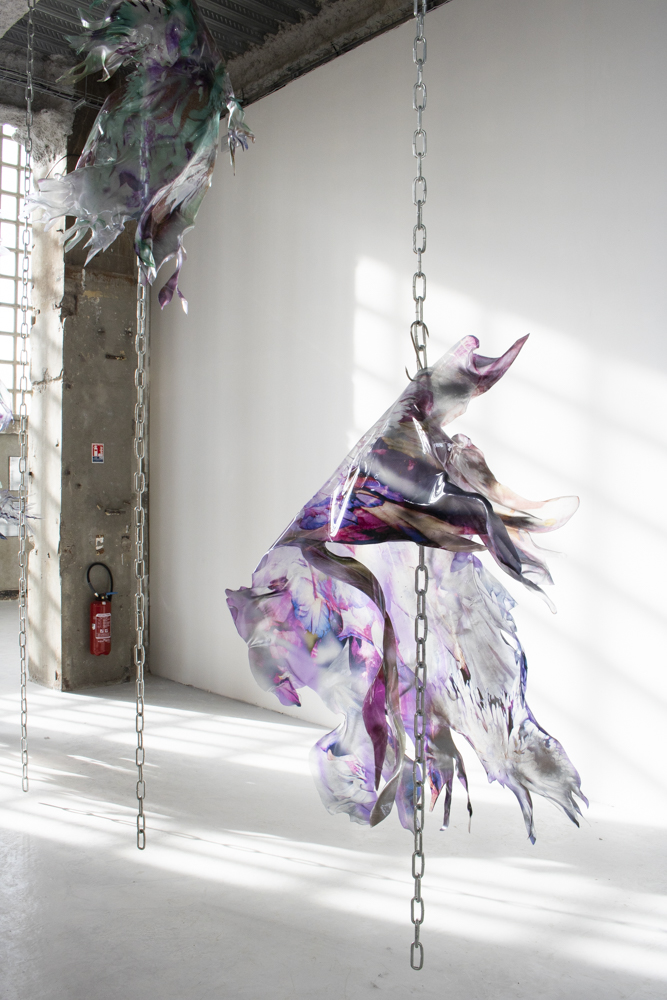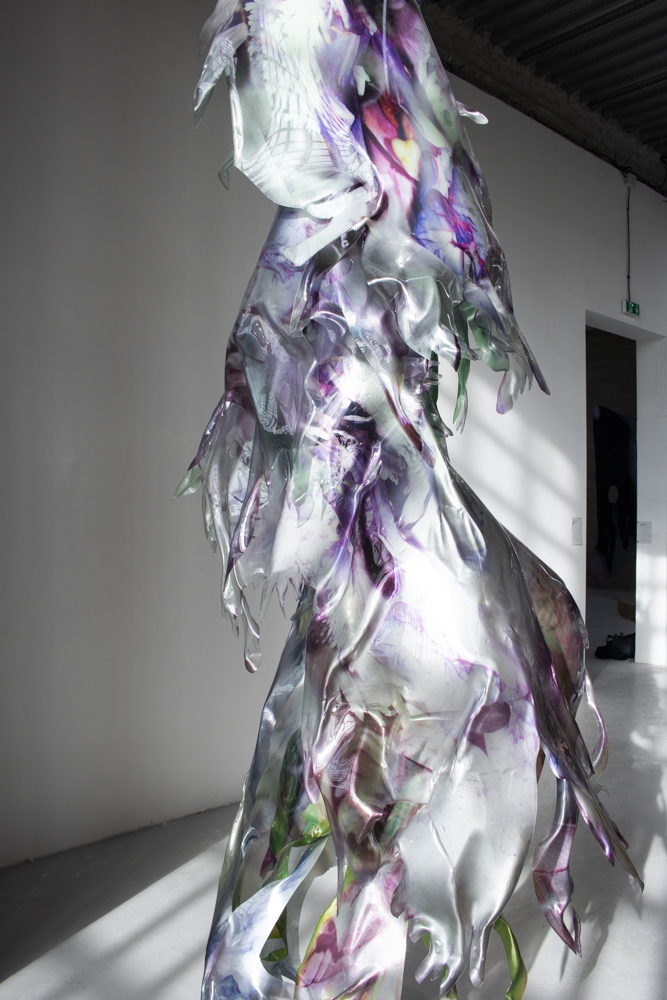 Spring Bouquet, 2019
Inkjet print on plastics and various materials, approximately 240 x 300 cm for one piece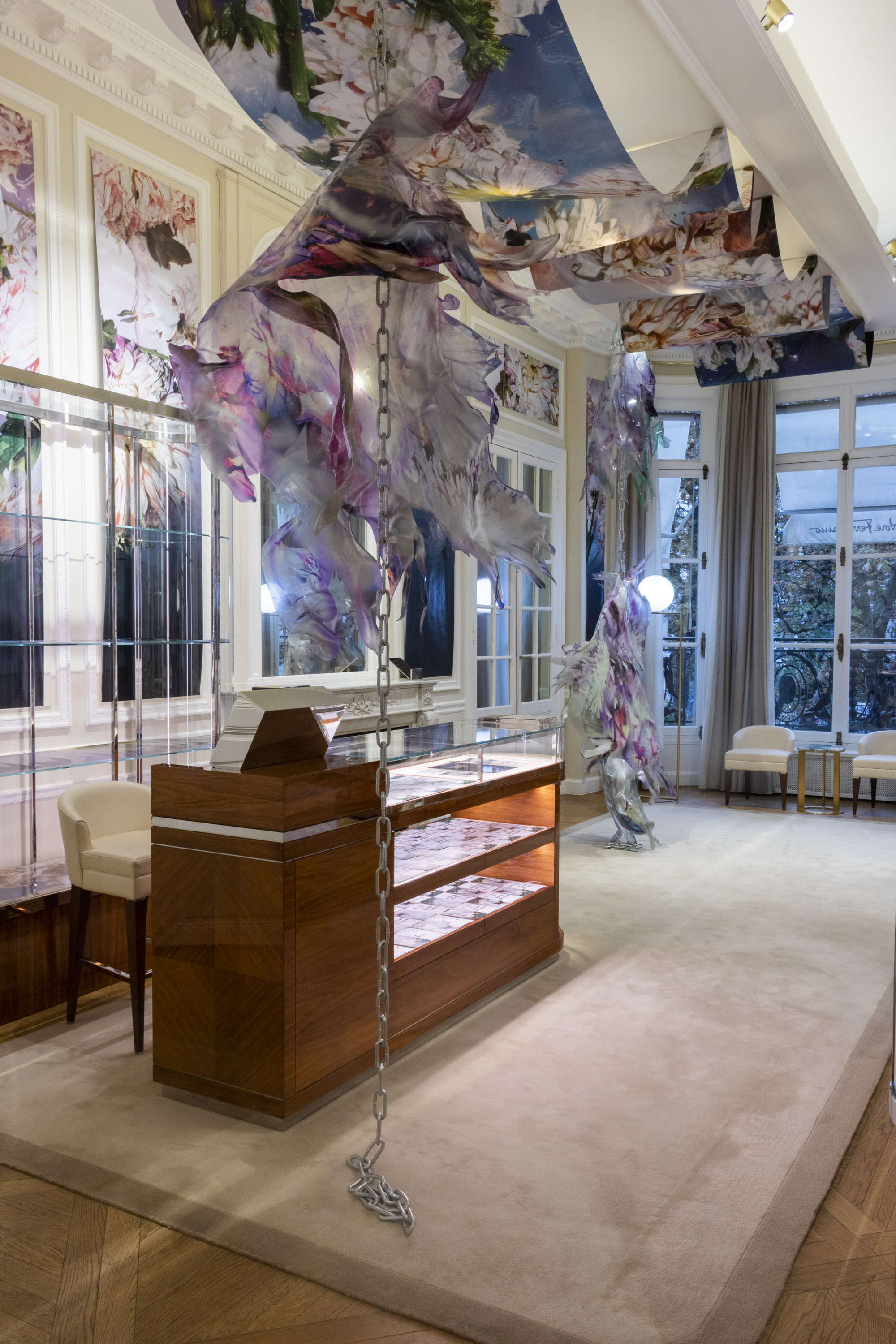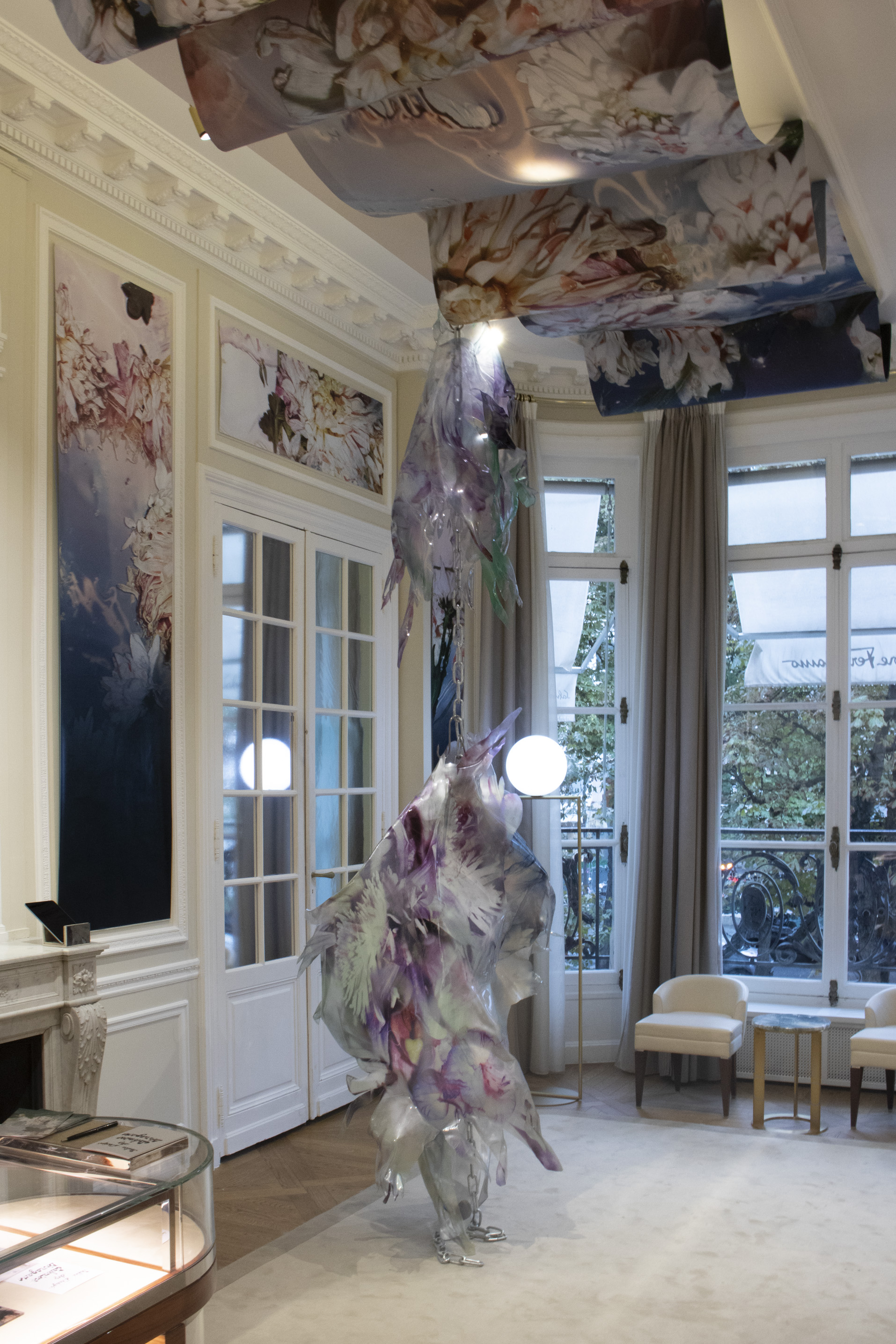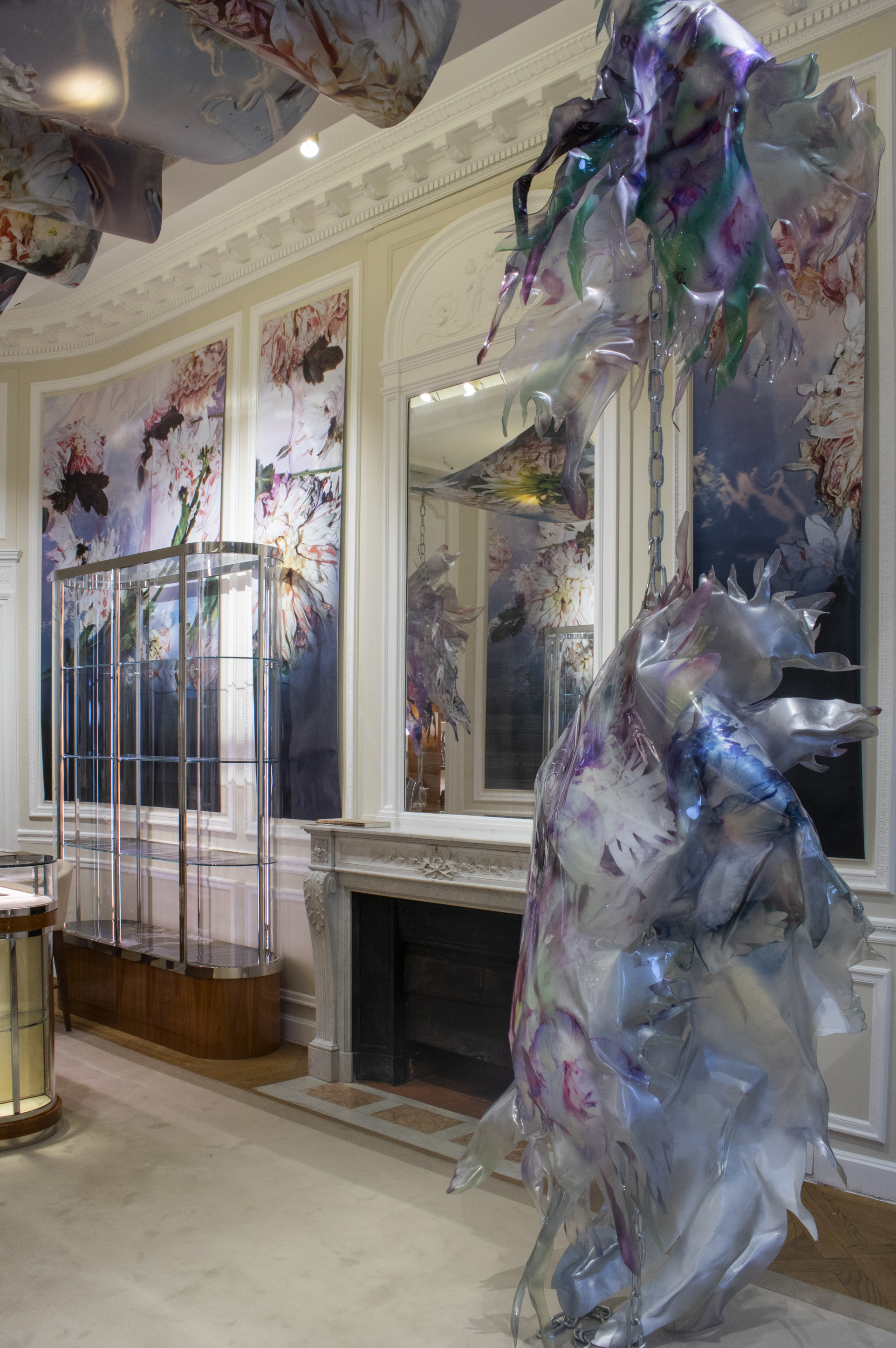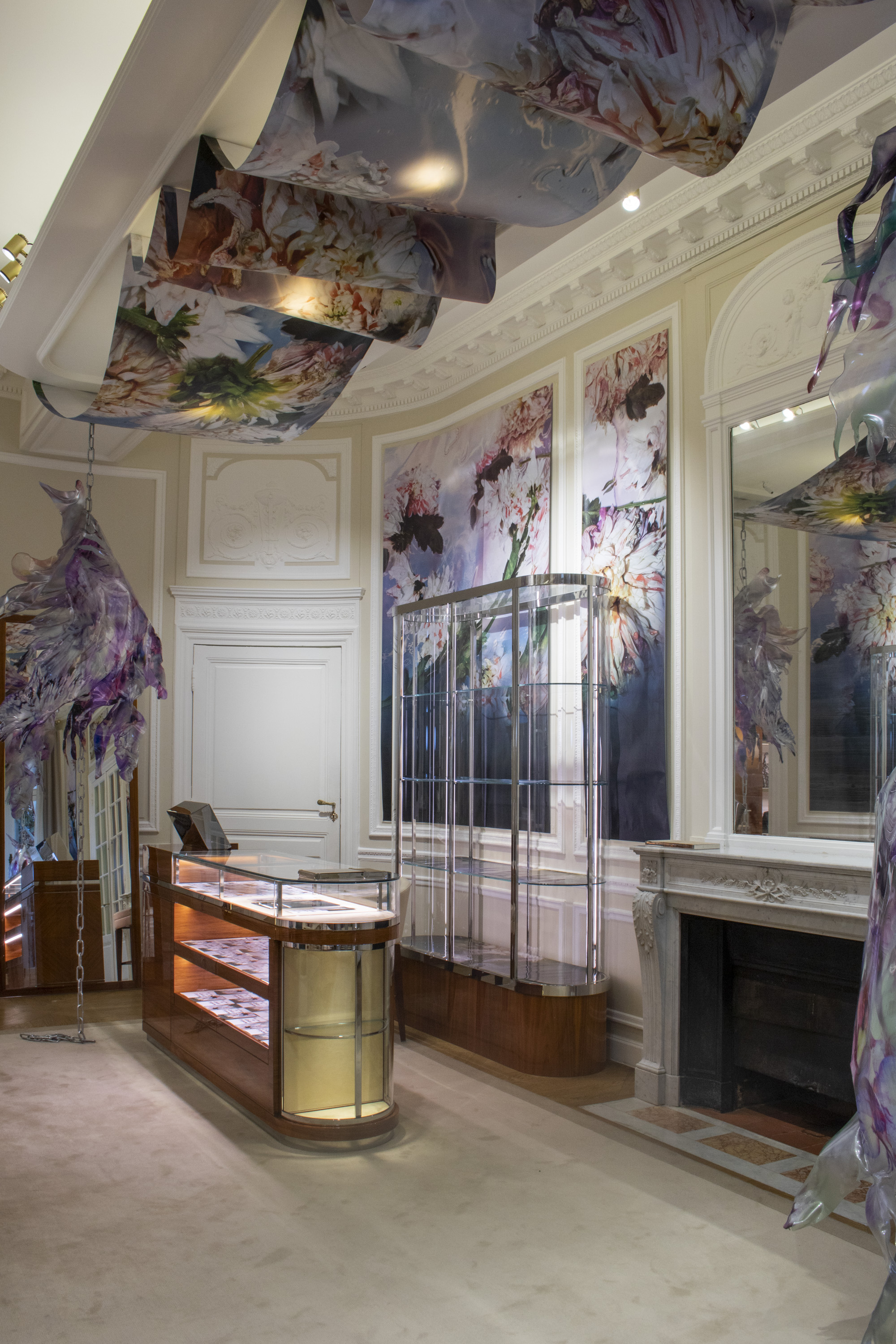 Pauline d'Andigné chez Salvotore Ferragamo, 2020
View of the store Avenue Montaigne, Paris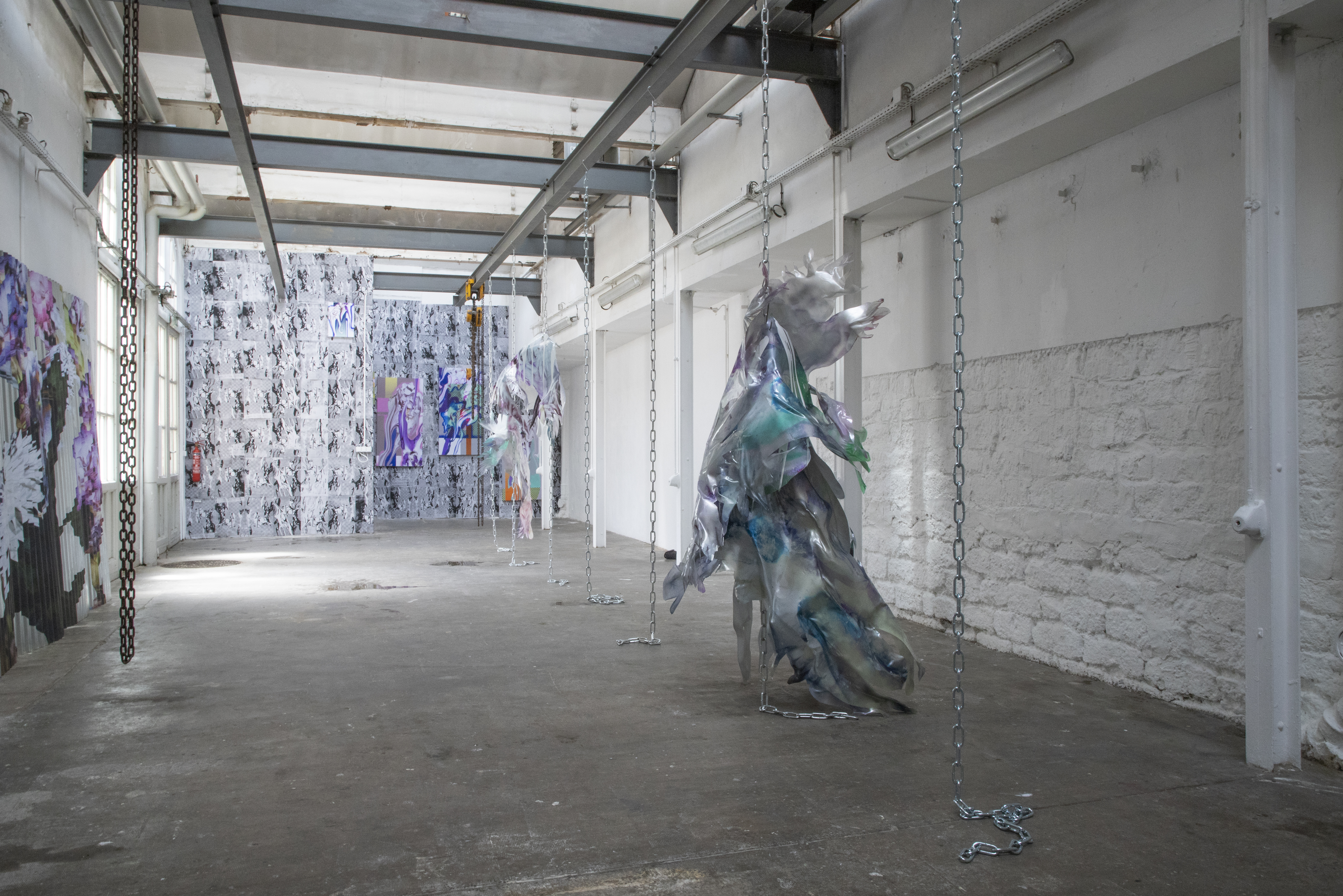 View of the exhibition BLOOM-UP, 2019
Beaux Arts de Paris


Flowering Hedge, 2018
Inkjet print on poster paper glued on corrugated sheets, 290 x 250 cm (dimensions for one sheet)



Paintings, 2019
Inkjet print on paper, spray paint and various materials, 83 x 170 cm and 51 x 37 cm


Calidrime, 2019
Publication, laser print, 100 pages, 17,5 x 24,5 cm

View of the exhibition Las Vegas Club, 2018
Romainville



View of the exhibition Métamorphoses, 2018
Galerie Gismondie, Paris


---
The core of my practice is to seek a dialogue between elements that are culturally perceived as ambivalent or even contradictory. Interplaying between the attractive and the repellent, the identifiable and the unknown, the erotic and the beautiful, the pieces thus appear ambiguous. Through my work, following the example of advertising images, I try to play with the visual expression of a latent ambiguity, of a disorder - characteristic of our feeling of desire - and stir it up.
The use of repetition and saturation in most installations allows my images to blend seamlessly into each other. These productions become themselves a material that is reinvested in the seductive and illusory areas of advertising but that remains free from the promotion of any product.
The works, which are ambivalent enough to avoid being categorized, seem to blend into a hybrid ecosystem where the pieces are condemned to a moving interpenetration between repulsion and seduction.

La recherche d'un dialogue entre des éléments culturellement perçus comme ambivalents, voire contradictoires est au cœur de ma pratique. Situées à la frontière entre l'attirant et le repoussant, l'identifiable et l'inconnu, l'érotique et le beau, les pièces apparaissent ainsi équivoques. Je tente dans mon travail, à l'instar des images publicitaires, de jouer avec la formulation visuelle d'une ambiguïté latente, d'un trouble, caractéristique de notre sentiment du désir pour attiser celui-ci.
Dans la plupart des installations, le choix de la répétition et de la saturation permet aux images de se fondre sans fin les unes dans les autres. Ces productions deviennent une matière qui réinvestie les espaces séduisants et illusoires de la publicité mais reste indépendantes de la valorisation d'un quelconque produit.
Suffisamment ambivalentes pour échapper à une catégorisation, les productions semblent s'effacer au sein d'un écosystème hybride où les pièces sont condamnées à une interpénétration mouvante entre l'écœurement et la séduction.